Cycles Storyline®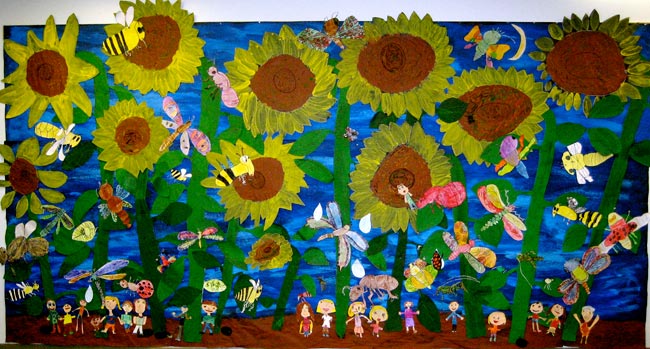 Cycles Storyline Frieze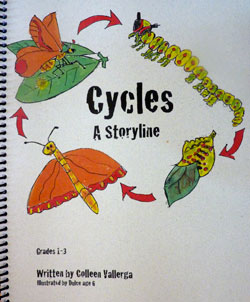 Purchase the Cycles Storyline Manual! 
1.Printed Manual -$70.00-Includes U.S. shipping and handling. *For international orders, please send me a message using the contact tab. 
2. PDF Manual-$50.00-I will email this to you once your order is received.
Overview: The Cycles Storyline begins when a large, paper school bus appears in the hallway, outside the classroom. A letter from Ms. Frizzle of Magic School Bus land arrives shortly after. In the letter Ms. Frizzle tells the students how kids from all over America help her create her books and DVDs. She invites the lucky class to create her next DVD about cycles and states clear guidelines and expectations for the project.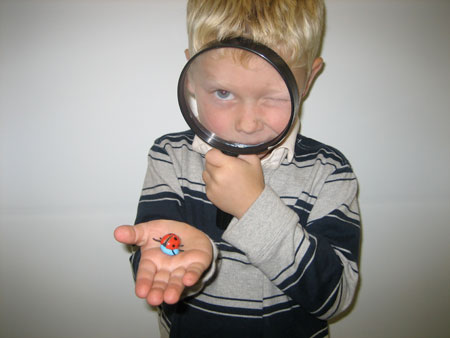 First… I want you to create a Magic School Bus character.
Second… I want you to learn about a sunflower and its life cycle, and create a sunflower field. Third… you will all need to work together to get things done. Magic School Bus kids cooperate at all times. How will you do this? And fourth… remember to keep your imagination and sense of humor alive at all times on the bus. You will use it to have fun and create an exciting DVD. I will send weekly clues to guide your cycle study as you explore Magic School Bus land and create the new Cycles DVD. Ms. Frizzle ends her letter, telling the students that their classroom teacher will be their guide. After students become Magic School Bus characters, they learn about sunflowers, document their information for the Cycles DVD, and create a sunflower field. Students then role play, shrinking into the sunflower field, to get a big picture of how it all looks. An incident, needing to be solved, occurs while they are in the sunflower field. Once a week, a new cycle clue arrives and more cycles are studied. A format, similar to the sunflower activities, is used to study the following:
Bee
Butterfly
Ant
Ladybug
Seasons
Rock
Water
Moon
Additional information is collected and photographed for a Comic Life formatting of the new Cycles DVD. In the end, Ms. Frizzle arrives for the premiere, where she admires and accepts the new Cycles DVD.
Insects and life cycles are the main curricular focus of this Storyline. Visual art, writing, poetry and process drama are also strongly represented.
"The Cycles Storyline is packed with learning. Joanna Cole's Magic School Bus framework makes the study lively, fun and personal for kids. I find this a good way to cover designated yearly curriculum in a creative and meaningful way." — Colleen Vallerga

Table of Contents: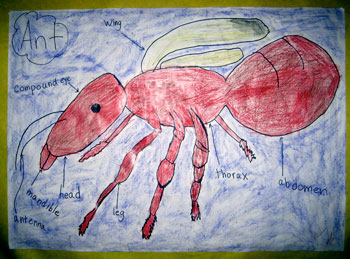 ant diagram
Storyline Outline i-vii The Cycles Storyline: Episode One: The Hook 1-3 Episode Two: Characers 3-5 Episode Three Magic School Bus Rules 5 Episode Four: Setting: Sunflower Field 6-11 Episode Five: Incidents 11-12 Episode Six: Life Cycles
Bee 12-18
Butterfly 18-24
Ant 24-29
Ladybug 30-35
Episode Seven: Daily Rhythms 35 Episode Eight: Earth Cycles 36-41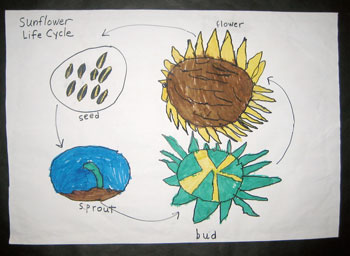 sunflower cycle
Episode Nine: Cycles DVD 41-42 Episode Ten: The Premiere 42-43 Episode Eleven: Reflection 44 Appendix One: Curriculum 45-48 Appendix Two: Calendar 49-52 Appendix Three: Writing and Poetry
Biography 55
Magic School Bus Journal 57-58
Daily Rhythms 59-60
Plant Story: Sunflower Seed Journey 61-63
Poetry: What is a Sunflower? 64-65
Insect Story: Bee Dance 66-68
Poetry: Bee Sounds 69-70
Insect Story: Butterfly Day 71-74
Poetry: Being a Butterfly 75-77
Insect Story: Enemy Ants 78-82
Poetry: The Mighty Ant 83-84
Insect Story: Ladybug's Escape 85-89
Poetry: LADYBUGS 90-91
Poetry: Metaphors 92-93
Song: Sunflower Field 94-95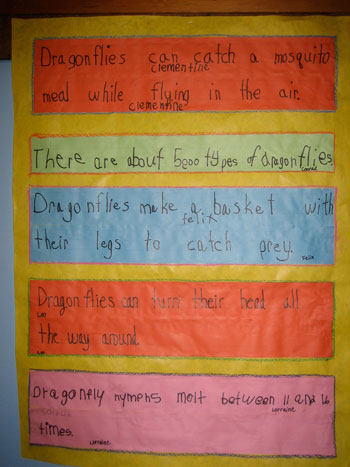 dragonfly fact chart
Appendix Four: Storyline Visuals
School Bus 99
Characters 99
Sunflower Frieze 101
Appendix Five: Cycles DVD
Sunflower

Diagram, Fact Chart, Life Cycle, Homework 105

Bee

Diagram, Fact Chart, Homework 107
Life Cycle 109
Bee Art 111

Lady Bug

Diagram, Fact Chart, Homework 113
Life Cycle 115
Ladybug Art 117

Rock
Appendix Six: Books 121-124 Appendix Seven: Posttest 125-131
Curriculum Focus: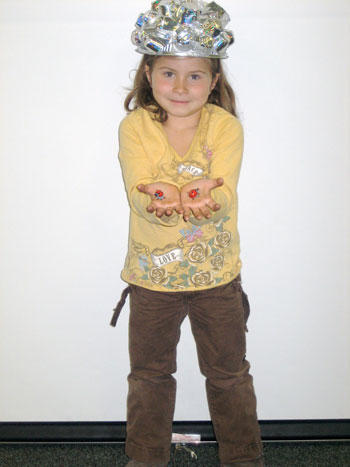 Language Arts
Reading:

Fiction and Nonfiction
Understand, learn and use new vocabulary
Obtain information from printed material
Describe new information gained from reading or listening to an informational text.
Read informational text to locate specific information.
Interpret information from charts and diagrams.
Writing:

Modes:

Narrative
Descriptive
Imaginative
Expository: brief informative reports, friendly letter

Traits:

Voice
Ideas
Word Choice
Conventions
Organization
Sentence Fluency

Skills:

Parts of Speech (verbs, adjectives, nouns)
Vocabulary
Introductory sentence, supporting sentences and concluding sentence
Beginning Paragraphing
Main Idea
Story Structure: beginning, middle, end
Plan, draft and revise an original piece of writing
Grammar and punctuation
Legible writing

Author's Craft:

Five Senses
Super Sentences
Vivid Verbs
Dynamic Adjectives

Poetry:

Simile
Metaphor
Verbs
Onomatopoeia
Listening and Speaking
Science

Life Cycles
Earth Cycles
Insects
Plants
Characteristics, Structure, and Functions of Organisms
Basic Needs of Living Things
Similarities and Differences Between Organisms
Animal Life (food, shelter, protection)
Adaptations
Animal Classification: Insects
Scientific Process:

Experimentation
Observation
Data Collection

Cooperative Group Work

Art
Music

Create and Present: Song Writing

Theater
Storyline® is a registered trademark of Storyline Design.