Gabriella's Song Storyline®
written by Colleen Vallerga
The Storyline is based on the book Gabriella's Song by Candace Fleming.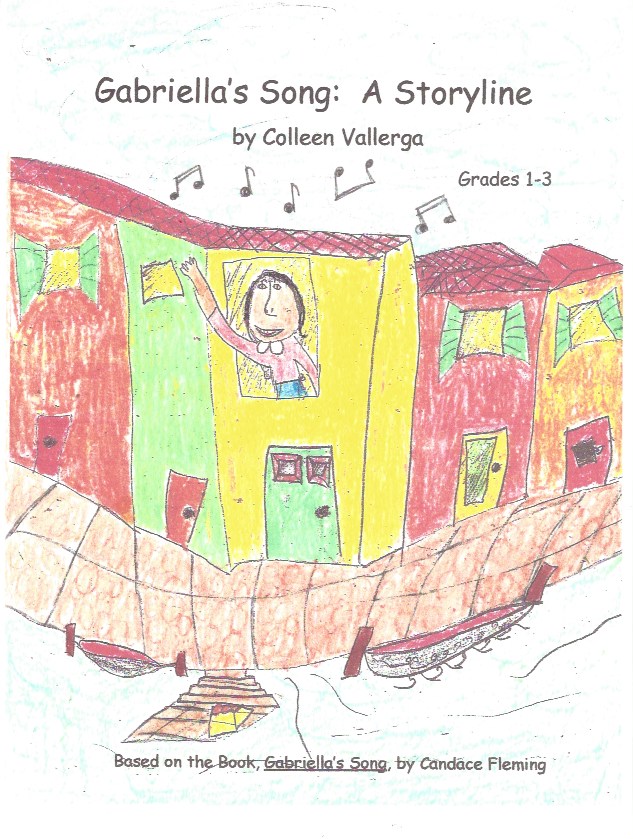 Grades: K-3
Total Number of Pages:  127
Printed Manual -$70.00-Includes U.S. shipping and handling.
*For international orders, please contact me.
PDF Manual -$50.00-The PDF will be emailed to you once the order is received.
Storyline Overview
The story begins with a young girl named Gabriella taking a leisurely stroll along the streets of Venice. As she walks, she listens to the sounds around her.
Students create Gabriella's city of Venice and become fellow school children in her neighborhood. In their Scuola de Venezia they meet each day to explore the sounds of Venice and listen to the beautiful songs in this City of Music. They take time to analyze, describe, and enjoy the music they hear.
The teacher returns to the book and reads more about Gabriella's walk through her neighborhood. The sounds of Venice blend and blur in Gabriella's mind and become a song for her sing. Her song travels to the ears and hearts of her neighbors who hum the catchy tune and pass it along.
The teacher challenges the students to write and sing Gabriella's song. She guides them on a quest as they become composers and explore sound, create musical instruments, study the elements of music, and work to organize the sounds into a musical composition. Through this process, students experience music from the inside. They become composers, using the elements of music to create Gabriella's song.
The song is performed for people in the neighborhood. Neighbors share how the song makes them feel.
The teacher continues reading the story. As Gabriella's song reverberates throughout Venice, it winds its way to the ears of a frustrated composer who cannot find the music for his newest symphony. The tune is just what he has been looking for, and he sets to work on a symphony for all of Venice to hear.
Students see composition at another level when a composer develops their song into a symphony. The Storyline concludes with a presentation of Gabriella's story and song by the students, and a symphony of the song created by Giuseppe, the composer.
You do not need to be a musically trained teacher to implement this Storyline. Four different composing options are presented, ranging from simple to more complex. You can choose what works for you. Many schools have a music teacher who can provide support and possibly play the part of the composer. The composer's symphony can be a simple adding of additional instruments, harmony and other moving lines to accompany the tune that students create. It can be created on a computer and played in class. I know from experience that there are artists, out in communities, who are willing and enthused to share their talents with school children. It is an amazing experience to have a classroom of students, a teacher, and a composer work together on this Storyline.
Candace Fleming has written an ideal book for a Storyline, book-based, study. This beautiful story is rich in the five senses, full of creative language, and heartfelt. Enter the world of Gabriella's Venice and Storyline magic will begin to happen in your classroom.
Standards and Instruction Covered
Common Core Language Arts Standards
Reading Literature
Key Ideas and Details
Craft and Structure
Integration of Knowledge and Ideas
Reading Informational Text
Key Ideas and Details
Craft and Structure
Integration of Knowledge and Ideas
Speaking and Listening
Comprehension and Collaboration
Presentation of Knowledge and Ideas
Writing
Text Types and Purposes
Production and Distribution of Writing
Research to Build and Present Knowledge
Language
Social Science Standards (Oregon Department of Education)
Multicultural Studies
Geography
Historical Knowledge
Historical Thinking
Social Science Analysis
Art Standards (Oregon Department of Education)
Music: Anchor Standards 1-11
Visual Art
Theater
Dance
Technology