Voices from the Rainforest Storyline®
written by Colleen Vallerga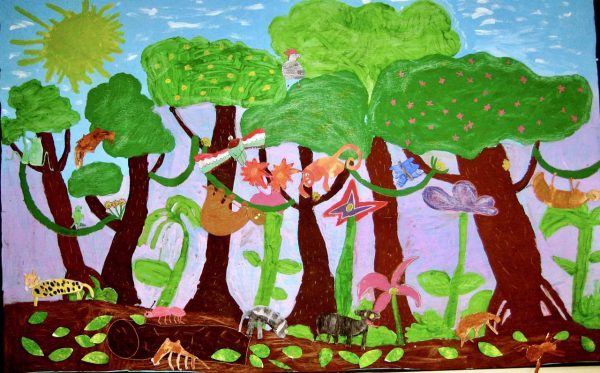 "There is no doubt that the tropical rainforests of the world are in danger. Every hour approximately six species of life in our tropical rainforests are destroyed. Experts agree that the number one cause of extinction in the tropical rainforest is due to the destruction of the tropical rainforest environment." – Jason Albright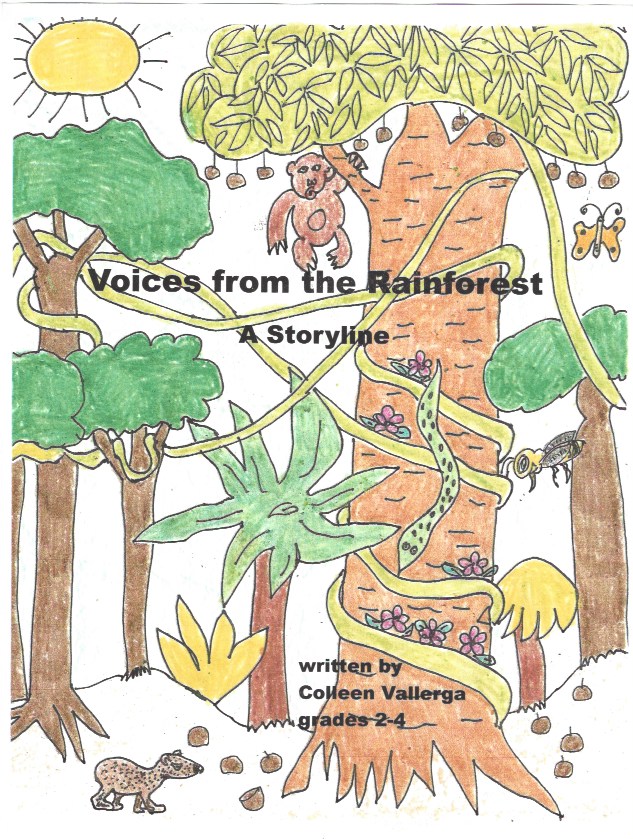 Grades: 2-5
Total Number of Pages:  105
Printed Manual -$70.00-Includes U.S. shipping and handling.
*For international orders, please contact me.
PDF Manual -$50.00-The PDF will be emailed to you once the order is received.
Storyline Overview
The Storyline begins with the arrival of an envelope addressed to a classroom of students. Inside is a letter and photos of rainforest animals . The teacher hands out the animal photos for the students to view and discuss. After a few minutes she reads the letter. The letter contains information about the plight of animals in the rainforest and presents a challenge for the students from the president of TED Talks by Kids.
"Would you like to help the animals of the rainforest? Can you learn about the animals, their lives, homes, and what is threatening them? Can you use words in innovative and engaging ways to speak for the animals as they seek help from the people of planet Earth? TED Talks is looking for students just like you to prepare a talk that will persuade others to help the rainforests."
Enticed by the rainforest animals, students accept the challenge to become TED Kids and set to work. Each student becomes an expert on a rainforest animal and shares his or her knowledge with others.
An in-depth study of a castaña tree, home of the animals, follows. Students explore the complex web of life that connects the plants, animals, humans, and non-living environment to the tree. They study the rainforest that surrounds and supports the tree. They explore real-life problems that threaten the castaña tree community and engage in collaborative discussions sharing ideas, questions, and possible solutions.
With help and guidance from the teacher, students use their writing skills and talents to compose their TED Talks and develop speaking skills as they prepare for their presentations.
Students are given the opportunity to make a difference in the world by becoming advocates for the rainforest animals. The topic is real-life and powerful.
Standards and Instruction Covered
Common Core Language Arts Standards
Reading Informational Text
Key Ideas and Details
Craft and Structure
Integration of Knowledge and Ideas
Speaking and Listening
Comprehension and Collaboration
Presentation of Knowledge and Ideas
Writing
Text Types and Purposes
Production and Distribution of Writing
Research to Build and Present Knowledge
Language
Social Science Standards (Oregon Department of Education)
Next Generation Science Standards
Biological Evolution: Unity and Diversity
Ecosystems: Interactions, Energy, Dynamics
Earth and Human Activity
Earth's Systems
From Molecules to Organisms: Structures and Processes
Engineering Design
Constructing Explanations and Designing Solutions
Engaging in Argument from Evidence
Mathematics Standards (Oregon Department of Education)
Number Operations in Base Ten
Health Education Standards (Oregon Department of Education)
Promotion of Mental, Social and Emotional Health
Art Standards (Oregon Department of Education)
Technology