The People Of The Longhouse Storyline®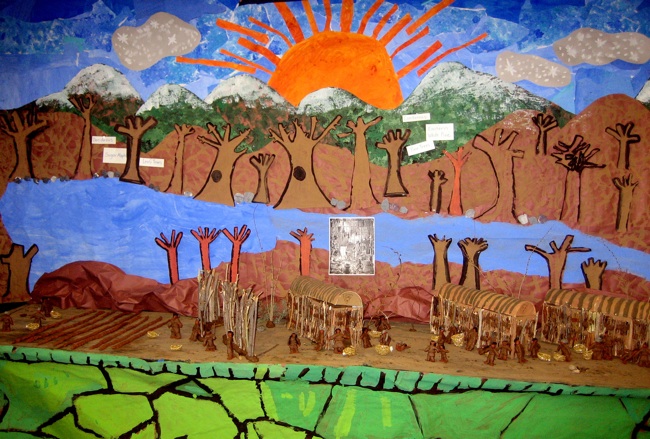 A frieze from People of the Longhouse. M. Greene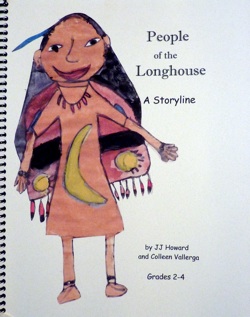 Purchase the People of the Longhouse Storyline Manual!  
1.Printed Manual -$70.00-Includes U.S. shipping and handling. *For international orders, please send me a message using the contact tab. 
Overview: The people of the longhouse are members of the Haudenosaunee League (also know as Iroqouis). Their league has been dated back to the year 1142. The Haudenosaunee are the second oldest, continuously existing, representative government on the planet. Research shows that Haudenosaunee influenced the foundation of the United States government. The People of the Longhouse Storyline is an historical study of this Native American nation. In the Storyline, students begin with the story of how the land and living things came to be as explained in the story of Skywoman. Students are grouped into clans and longhouses and take on a role in their family. They live through the cycle of seasons, learn the way of life and celebrations for their nation. When spring arrives, so do squabbles among the neighboring nations. In the summer, a new way of life, the Great Peace, is introduced by the Great Peace Maker and Hiawatha. The nations eventually agree and join together to become The People of the Longhouse, five Nations united by a common government. The topic was originally written for five classrooms, but directions are included for adapting the study to one classroom.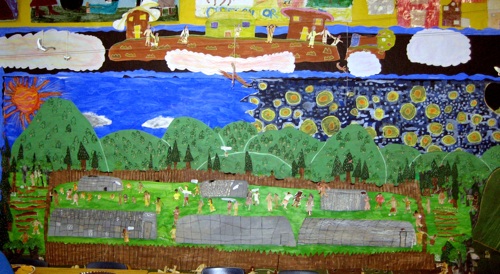 A frieze from People of the Longhouse.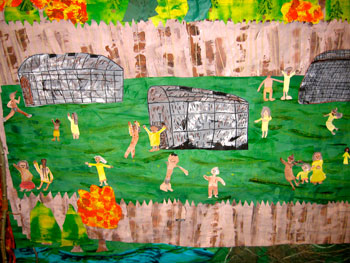 Longhouse characters
Table of Contents
People of the Longhouse: Storyline Outline
The Storyline
The Hook
Episode One: The Place
Episode Two: The People
Episode Three: Power Structure
Episode Four: Incidents
Episode Five: Yearly Rhythms
Episode Six: Harvest Moon
Episode Seven: Mid-Winter Moon
Episode Eight: Planting Moon
Episode Nine: Moon of Green Corn
Episode Ten: The Great Peace
Episode Eleven: Reflection
Appendix One: Curriculum
Appendix Two: Storyline Calendar
Appendix Three: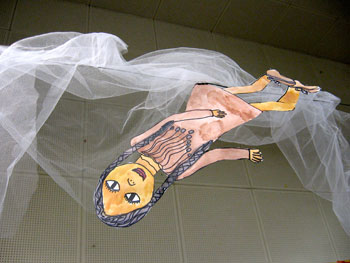 Sky Woman
Loop Lessons for Legend Study
Week One: Legend Elements
Week Two: Iroquois Legends
Weeks Three and Four: Legend Study #1
Weeks Five and Six: Legend Study #2
Week Seven: Legend Writing
Legend Element Template
Four Square Template
Sample Criteria
Sample Legends
Weeks Eight and Nine: Tribal Studies
Tribal Study Worksheets
Appendix Four:
Writing
Plant and Animal Research
Seasonal Rhythms
Appendix Five: Setting Visuals
Appendix Six:
Character Visuals/Biographies
Character Visuals
Fireside Family Biography
Homework: Iroquois Name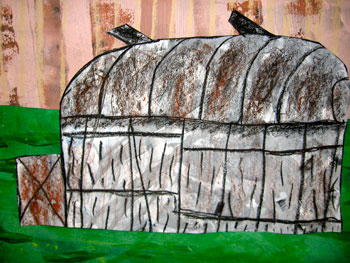 a longhouse
Appendix Seven:
Turtle Calendar/Moon Phases
Turtle Calendar
Moon Phases
Appendix Eight:
Iroquois Resources
The Circle of Peace Visual
Iroquois Prayer for Thanksgiving
Haudenosaunee Policy
Appendix Nine:
The Great Peace
Sample Outline: Journey to Chief Atatarho
Sample Outline: The Great Peace Ceremony
Appendix Ten: Books/CDs/Websites
Appendix Eleven: Post Test
Total Number of Pages:  145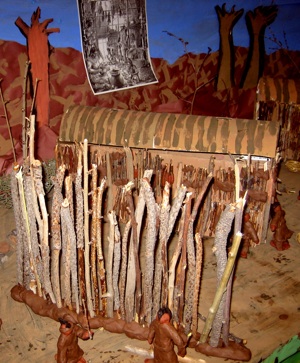 Curriculum Focus
Common Core Standards are identified in each episode.
Social Sciences Geography:
maps
physical features of the land
physical environment
human life
History:
calendar and time sequences
Native American way of life
Civics & Government:
community rights
community participation
responsibilities
Economics/Social Science:
problem solving
contrasting view points
effects on people and other living things
responses and opinions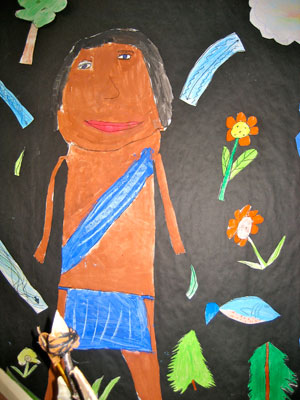 Science/Life Science:
comparing/contrasting plants and animals and the environments where they live
habitat/animal interdependence
living and nonliving resources
adaptations
life cycles of plants and animals
Earth Science:
seasonal weather patterns
sun and moon patterns of movement
Language Arts:
literature connection and response
poetry
fiction
nonfiction
drama
listening/comprehension
discussion
summarizing
Writing:
writing process
paragraphing
descriptive writing
narrative writing
Speaking and Listening: retell
Art: social, historical and cultural characteristics in a work of art
Engineering Design 
Characters from People of the Longhouse. M. Greene
Storyline® is a registered trademark of Storyline Design.